Your Wistia Channel is an easy way to display and share your entire collection of It's a Money Thing episodes using a single link or a single embed code. It creates an ad-free, 'Netflix-style' viewing experience that allows viewers to browse your entire video library from within a single webpage.
Wistia channels can be used two ways: as a Standalone Channel (see example) or as an Embedded Channel (see example).
Getting Your Wistia Channel Code
The link and embed code for your Wistia Channel can be found in your initial 'Your It's a Money Thing videos are now hosted on Wistia' email.
Note: Having trouble locating your Wistia Channel information? Send us an email at info@currencymarketing.ca and we'll be happy to resend your Channel link and embed code.

Standalone vs. Embedded Channels
Standalone Channel (example)
A Standalone Channel is a simple external web page that contains all your It's a Money Thing episodes, sorted by category. It uses a Wistia URL (fast.wistia.net).
Embedded Channel (example)
An Embedded Channel is a snippet of code that allows you to display your Wistia Channel directly on your website. It does not put any strain on your website's bandwidth, as the video episodes are all hosted by Wistia. It shares the URL of the webpage it's on.
Customizing Your Channel Background
Your Wistia Channel comes in two background styles: Light and Dark.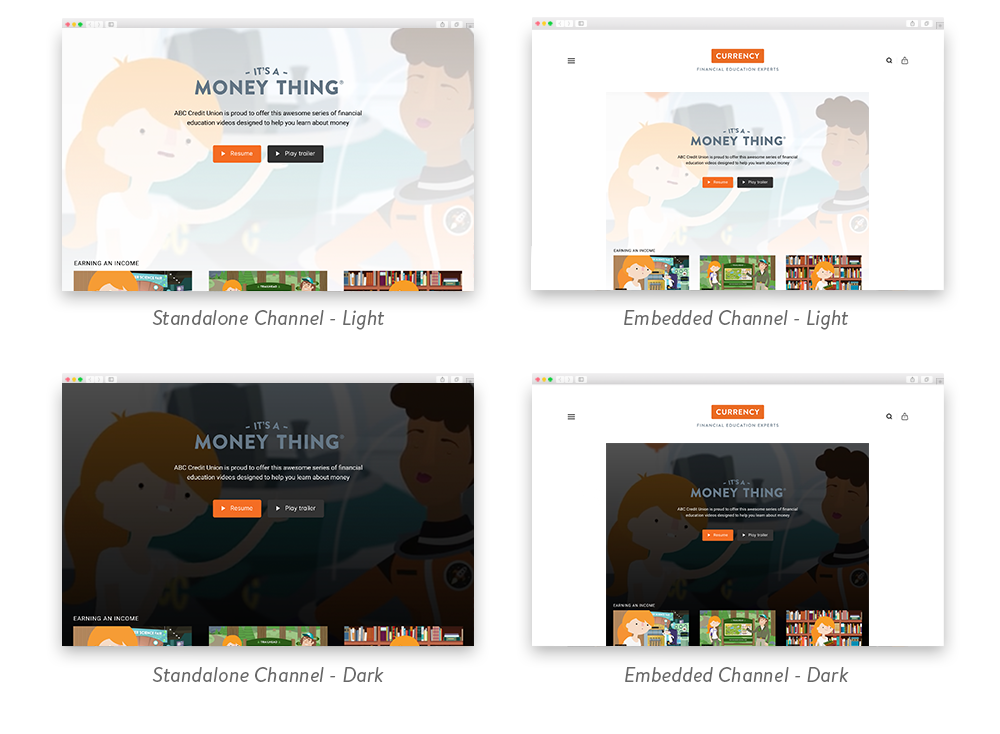 By default, your Wistia Channel is set up with a Light background style. To change your Channel background style, send us an email at info@currencymarketing.ca.
Note: Be aware that switching your Wistia Channel background style affects both versions (Standalone and Embedded) of your Channel.