Let's talk about the ways your credit union can sit down with young adults in a learning environment. This article will look at the ways you can use the teaching-focused tool in your content pack—the presentation.
Using your presentation
One of the most important aspects of the content packs is the opportunity for your credit union to provide young adults with a learning experience that is engaging and memorable. And the best piece for this is the presentation.
In-branch presentations
We craft each presentation in a way that makes complex ideas easy to understand and remember. It is the perfect teaching tool to use at informal in-branch presentations.
School presentations
Contact your local elementary, junior or senior high schools to arrange a series of presentations about personal budgeting and financial education. Each content pack includes tools to:
Make a 15-minute slide presentation
Distribute the associated handout points of the presentation
Print some of the key slides for participants to take home
Post your presentation to SlideShare

SlideShare provides these stats as the top reasons why you should post your It's a Money Thing presentation on its service:
60 million unique visitors each month*
Links from SlideShare to your credit union's website create inbound links, which are ranked highly by search engines like Google
SlideShare was acquired by LinkedIn in 2012, creating all sorts of cross-promotional opportunities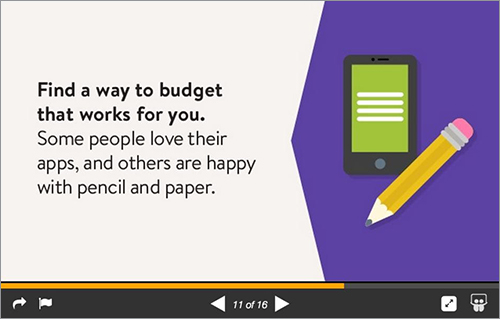 There are other presentation-sharing platforms you could choose, but SlideShare definitely has the largest user base. Sharing your presentation on any slide-sharing platform provides another online location for search engines to let users discover your content. The more places online your content can "live", the better.
Things to remember
Wherever you share your presentation, don't forget to:
Add your credit union's name to the title and description
Incorporate SEO (search engine optimization) keywords and phrases into the description
Provide easy-to-find links to the next action you want readers to take—such as signing up for your e-newsletter or attending an in-branch learning session
* As reported by SlideShare 11/12/2013
Promoting your presentation
As mentioned in How-To Bulletin #3, using an online service such as Hootsuite to schedule Tweets and Facebook posts will help you efficiently promote your presentation.

If you're hosting your presentation on SlideShare or a similar service, promote it two to three times each week by posting a short description and link. Choose different times and days to post, and measure which posts get the most reach and response.
If you offer in-branch learning sessions, promote these heavily by using single slide images with your posts. Then, direct your followers to click a link to your preferred registration method.