How to find student information
1. Log into your Academy admin area.
2. Click Users in the admin sidebar. You will be brought to a list of all users in your school.
3. Click on a particular user from the list to see their enrollment information.
Alternatively, you can find specific student information for a given course by going to that particular course and clicking Students from the submenu.
This will take you to a list of users enrolled in that particular course.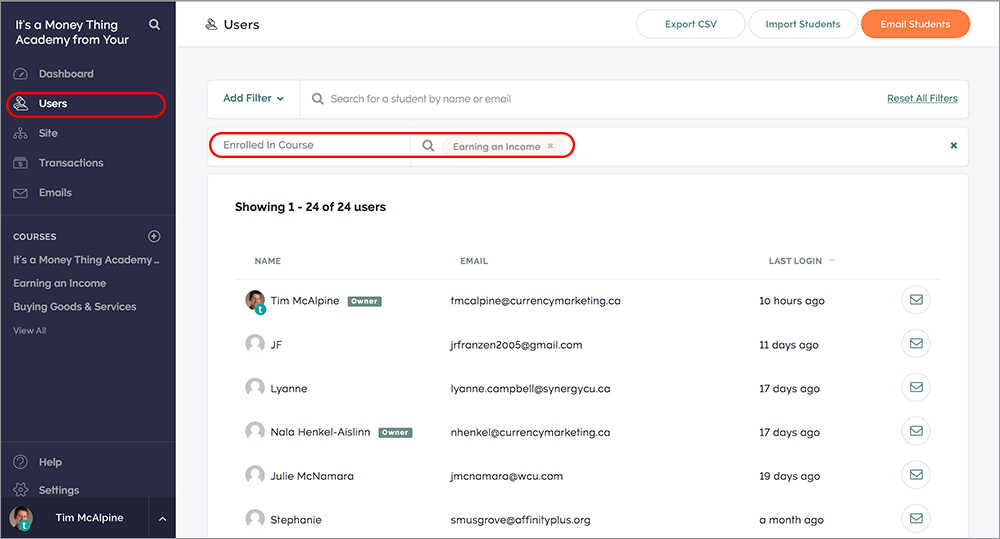 Similarly, select a student from the list in order to see their information.
What student information includes
Inside Information you'll find the following:
Profile: student name, email, note (internal use only), and the ability to change their password.
Stats: student usage information (number of logins, join date, last login date), roles (student, affiliate, author, etc.), current and last sign-in IP addresses and gross revenue (which is not applicable, since we are offering free enrollment).
Privileges: where you can make a student an admin/owner for the entire school. (Note: do not do this for any of your students, since this action will give them full control of all information inside your school.)
Delete: permanently delete user and all their enrollments.
About student quizzes:
When viewing students' stats, quiz results will not display. We have set up the quizzes in your Academy to be optional. Mandatory quizzes on Teachable are more appropriate for paid courses or for building courses for academic institutions. Optional quizzes also keep the experience lightweight for users rather than making it a rigorous learning experience.